The 20th Science Council of Asia (SCA) Conference was held successfully in Guangzhou, China, from the 13th to 15th of May, 2021. The theme of the Conference was "The Age of New Materials: Innovation for Sustainable Society". The Conference were organized by SCA and China Association for Science and Technology (CAST), undertaken by Shanghai Institute of Microsystem and Information Technology (SIMIT) CAS, Department of Science and Technology of Guangdong Province, Guangdong Provincial Association for Science and Technology, The people's Government of Guangzhou Municipality, and co-organized by Advanced Materials Alliance of CAST Member Societies (AMAC). It was the first time that the Conference had been held in hybrid mode, which allowed participants to join in the conference either on-site or on-line, or to watch the live webcasting. Nearly 500 participants (over 350 on-site attendees and 150 on-line registered attendees) from 21 countries/regions attended this conference. More than 70 distinguished experts and scholars from Chinese and foreign scientific and technological circles attended the conference and gave speeches.
  Prof. WANG Xi, President of SCA, Academician of Chinese Academy of Sciences (CAS) moderaded the opening ceremony and gave the welcome speech, also reviewed the development course of the Science Council of Asia. Opening remarks were made by Prof. BAI Chunli, President of Alliance of International Science Organizations (ANSO), Honorary Chairman of Presidium of Academic Divisions of CAS, Academician of CAS, and Dr. SONG Jun, Executive Secretary of CAST. Congratulatory remark was made by Dr. MA Xingrui, Governor of the People's Government of Guangdong Province.
  The Conference consisted of nine keynote speeches, six parallel sessions, and two poster sessions, as well as SCA Management Board Meeting and SCA General Assembly. The Keynote speech session was moderated by Prof. XIE Xiaoming, Director of SIMIT CAS, and Prof. WANG Weihua, Director of Guangdong Songshan Lake Materials Laboratory. Prof. ZHONG Nanshan, Prof. XUE Qikun, Dr. Gavin TOWLER, Prof. LU Jian, Prof. WANG Enge, Prof. K Sudesh KUMAR, Prof. Victoire de MARGERIE, Prof. LIU Changsheng and Prof. SHIRAHASE Sawako gave the keynote speeches respectively on the themes of "The Impact of COVID-19 on Society", "Education in New Century for SDGs", "Materials Innovation for Carbon Neutrality", "Circular Economy and Eco-materials", "Atom Scale Manufacturing and Nanomaterials", "Degradable Plastics for Sustainability", "Topological Materials for Quantum Computation", "Materials for BioTech-InfoTech" and "Sustainable Development in Aging Society". During the parallel sessions, over about 60 oral speaks were presented and all the on-site and on-line attendees had the enthusiastic communication and discussions over the six themes of "Sustainability, Social Diversity and Gender Equality", "Green and Intelligent Materials", "Functional Materials for Informatics", "Smart Transformation in Agriculture and Local Community", "New Frontier for Materials Design" and "Advanced Energy Materials".
  The closing ceremony was held after the General Assembly, moderated by Prof. WANG Xi. SCA Secretary-General Prof. SHIBUSAWA read the Declaration of the 20th SCA Conference, calling for focusing on the Sustainable Development Goals, further activating Asian scientific forces, and making positive contributions to promoting Asia and mankind to solve common difficulties and move towards common prosperity. The new SCA President, Prof. Jang-Moo LEE, President of NAS, gave an inaugural greeting. Instead of the traditional flag ceremony, an introduction to next hosting academy/country was presented by Prof. V.K. MALHOTRA, Member Secretary of ICSSR. Finally, Prof. WANG Xi made closing remarks and the 20th SCA annual conference ended with success in applause.
  The Science Council of Asia (SCA) is an international scientific organization founded in 2000 by Asian science academies and other national scientific organizations. SCA aims to provide scientists in all fields, including cultural and social as well as natural sciences and technology, with a collaborative platform for promoting scientific exchange and cooperation in Asia, and to develop and promote a holistic vision focusing on sustainable development and improvement in quality of life. SCA is now comprised of 32 academic organizations in Asia, and SCA Conference has been held annually since 2001.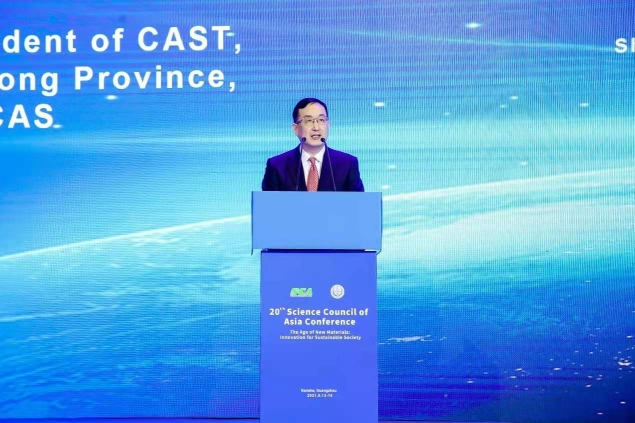 Prof. WANG Xi moderaded the opening ceremony and gave the welcome speech 
  Prof. ZHONG Nanshan gave the keynote speech
  Prof.Gavin TOWLER gave the on-line keynote speech.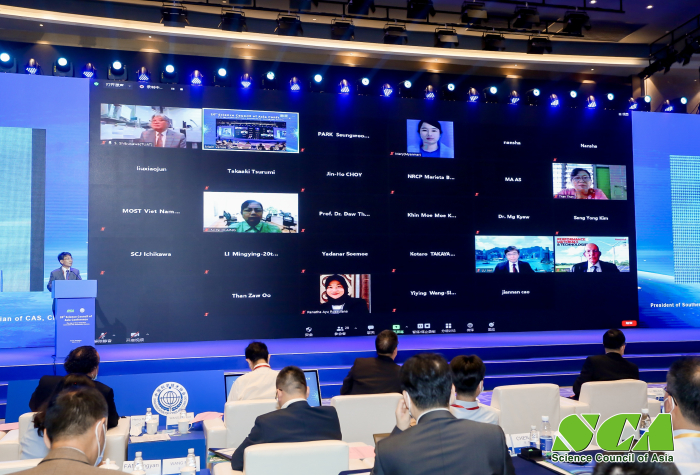 Prof.XUE Qikun answered the on-line attendees' questions

  An on-site group photo of the 20th SCA Conference