The 2018 International FD-SOI and RF-SOI Forum was held in Shanghai on September 18th and 19th. This is the 6th session of FD-SOI and RF-SOI Forum organized by Shanghai Institute of Microsystem and Information Technology Chinese Academy of Sciences (SIMIT CAS), the SOI Industry Consortium, VeriSilicon and SIMGUI Technology, more than 800 experts have attended the Forum.
Xi Wang, the co-chairman of the Forum, director of SIMIT CAS and the academician of CAS, delivered opening speech for the Forum. He said that China plays an important role in the world semiconductor market. With the rapid development of the IoT and AI applications, the Chinese government have paid more and more attention to the SOI technology. Over the past few years, we have witnessed the rapid development of the SOI industry. The application requirements in the fields of IoT, AI, intelligent driving and 5G communication provide a broad and differentiated application space for FD-SOI and RF-SOI technologies. More and more international companies are participating in to promote the development of SOI technology, and the SOI ecosystem has been improved. Yi Fan, the Vice Mayor of Chengdu led a delegation to participate in the FD-SOI Forum and delivered an opening speech.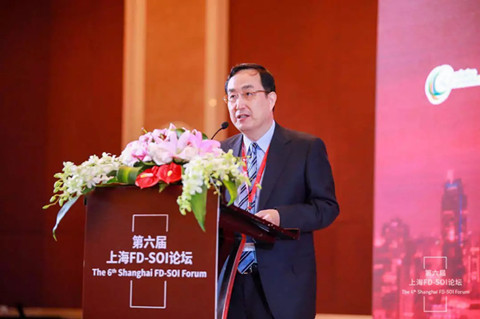 Academician Xi Wang Delivered an Opening Speech
The FD-SOI Forum on September18th focused on the application of FD-SOI technology in smart IoT and automotive electronics. The Forum was co-chaired by Weimin Dai, Chairman and President of VeriSilicon, and Carlos Mazure, Chairman and Executive Director of SOI Industry Consortium. Giate Jeong, Senior Vice President of Samsung Electronics, Thomas Morgenstern, Senior Vice President of Global Foundries, Handel Jones, CEO of IBS, Yantao Jia, Vice President of Amazon/Blink, and other guests made keynote speeches from FD-SOI mass production process, market analysis, product application, design services, IP development, ecosystem construction, etc. The panel discussion focused on "Which markets and applications are the first to use FD-SOI technology" and "FD-SOI applications in automotive electronics." The experts agreed that FD-SOI technology has the advantages of low power consumption and RF integration, and will have important applications in the fields of intelligent IoT, AI and automotive electronics. With the continuous improvement of ecosystems, FD-SOI products will go into mass production in three years or so.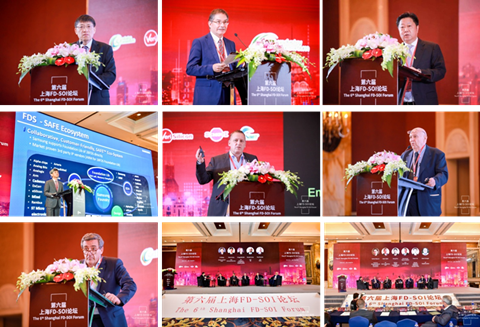 Keynote Speech and Panel Discussion on the FD-SOI Forum on September 18th
The RF-SOI Forum on September 19th focused on "5G Interconnect and RF-SOI Industry Opportunities", was co-chaired by Qingyu Wang, General Manager of Simgui technology, and Giorgio Cesana, Co-Executive Director of SOI Industry Consortium. Dan Song from China Mobile, Michael Reiha, R&D Manager of Nokia RFIC, Julio Costa, Director of R&D Department of Qorvo, Peter Rabbeni, Vice President of Global Foundries, Thomas Piliszczuk, Executive Vice President of Soitec, and other invited speakers made keynote speeches on RF-SOI technology in 5G applications, industrial deployment, manufacturing processes, SOI materials, and EDA tools. Faced with a serious shortage of global SOI materials, Qingyu Wang, Simgui Technology CEO said that Simgui Technology will expand the annual production capacity of 8-inch SOI wafers to 400,000 pieces in 2019, meanwhile, the company is actively planning 12-inch volume manufacturing facilities for SOI wafers to further support the development of China's SOI industry.
During the conference, Dr. Julio Costa, Director of Qorvo Technical Development Department, and Dr. Yang Li, CEO of Huizhi Microelectronics were awarded by the SOI Industry Consortium for their outstanding contribution to the development of RF-SOI technology.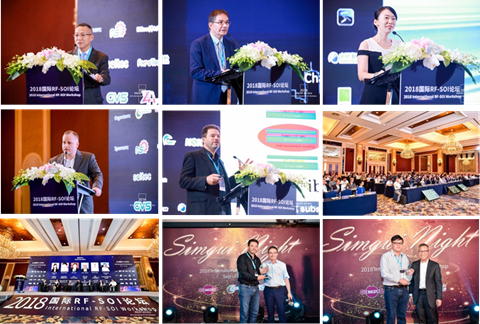 RF-SOI Forum Keynote, Panel Discussion on September 19th and SOI Industry Consortium Awards
"Advanced silicon-based materials and applications " is one of the major breakthroughs of SIMIT CAS. Based on more than 30 years of SOI technology research, the research team of SIMIT CAS has strengthened the original innovation and paid great attention to industrial application. Through international cooperation, the institute dedicates to improve China's SOI ecosystem. With the success of six consecutive SOI International Forums, more and more people begin to realize the differentiated competitive advantages of FD-SOI and RF-SOI technologies in 5G, IoT, AI, automotive electronics and other fields, and actively engaged in SOI product development and ecosystem construction. In the future, China will have great influence in the international SOI industry.