Organized by the International Society of Optical Engineering (SPIE), the most influential international organization in the academic field and the most authoritative in the field of optics, jointly organized by the Shanghai Institute of Microsystem and Information Technology (SIMIT), the Chinese Academy of Sciences (CAS), the Shanghai Institute of Optics and Precision Technology, and the Jiangsu Institute of Technology, The 2016 International Information Storage Symposium and the 10th Optical Storage Symposium were held in Changzhou, Jiangsu from April 10th to 12th. More than 150 experts, scholars, and graduate students from 7 countries including the United States, Australia, Ukraine, Japan, South Korea, Singapore, China, and Taiwan participated in the conference.
The IWIS / ISOS 2016 conference invited 8 professors of information storage and storage, including Professor Din Ping Tsai of the Academia Sinica Applied Science Research Center, Professor Joshua Yang of the University of Massachusetts, Professor Hongsik Jeong of Yonsei University, and Professor Min Gu of Swinburne University of Technology. Top scholars and experts in the field of optical storage made wonderful invited reports. At the same time, 27 scientists from all over the world made invitation reports and 57 posted reports. The conference held academic exchanges and discussions in the fields of electricity and optical memory, phase change memory, magnetic memory, resistive memory, flash memory, new memory, etc. The conference atmosphere was warm and academic, and the conference closed smoothly on the afternoon of April 12.
The conference provided a good international academic exchange platform for relevant scientific researchers, engineering technicians and production enterprises in the field of optical storage and other information storage, strengthened the cooperation between academia and industry, and enabled Chinese scientists to fully understand the memory field. International development trends, innovative ideas and key technologies, while also allowing international colleagues to understand China, China 's development and current status in the field of information and optical storage, will play a positive role in promoting the development of China 's information storage technology and industry, It is of great significance to enhance China's academic status and influence in this field.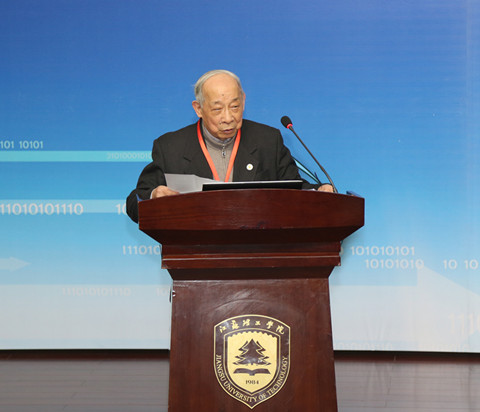 Academician GAN Fuxi giving speech (photo provided by SIMIT)
Professors giving speech (photo provided by SIMIT)
Attendees watching speech (photo provided by SIMIT)