IWIS/ISOS 2012(The 2012 International Workshop on Information Storage/9th International Symposium on Optical Storage), organized by SPIE (International Society for Optical Engineering), co-hosted by SIMIT (Shanghai Institute of Microsystem and Information Technology)was held in Shanghai from 22 to 24 October 2012. This conference attracted over 200 participants from around the world, including scientists andgraduate students from America, Australia, Canada, Japan, Korea, Singapore, Hong Kong, China and Taiwan.
Director of SIMIT Mr. Wang Xi, Vice director of Shanghai Jiading District Ms. FeiXiaomei, Secretary of the Party Committee and vicedirector of SIOM (Shanghai Institute of Optics and Fine Mechanics) Mr. Shao Jianda andacademician of CAS (Chinese Academy of Sciences) Mr. GanFuxiattended the opening ceremony. Professor Song Zhitang chaired the ceremony.
Mr. Wang Xi welcomed all participants for attending, and also thanked National Natural Science Foundation of China, CAS, Science and Technology Commission of Shanghai Municipality and Jiading District Government, Chinese Academy of Sciences and Shanghai Institute of Microsystem and Information technology for their substantial support.
He also mentioned that as two of the top institutes of information storage in China, SIMIT and SIOM have been committed to research for phase change RAM products and Optical storage products. These two institutes will benefit a lot from this conference.
On behalf of Jiading Distinct, Shanghai, Ms. FeiXiaomei indicated that government of Jiading Distinct has consistently supportedsuch events in science area and will always do that.
Nine leading experts, including AcademicianMr. GanFuxi from SIOM, Alex Kolobov from Japan's Institute of Microelectronics, Professor Han Jinping from IBM Semiconductor Research and Development Center, Professor Min Gu from Swinburne University of Technology of Australia, made their wonderful special reports.
33 scientists from NewfoundlandMemorial University, Canada,Hong Kong University of Science and Technology, Hong Kong Polytechnic University, Tsinghua University, Peking University, Institute of Semiconductors, Fudan University, Shanghai Institute of Microsystem and Information Technology have made invited reports with 48 posterpresentations.
Ten reports on the electrical and optical memory: phase change memory, optical memory, magnetic memory, resistive memory, ferroelectric memory, flash memory, new memory areas such as academic exchanges and seminars have been divided into 10 sessions. The conference ends on Oct. 24.
Originated in 1988, experienced the last eight occurs in Shanghai, Chongqing, Kunming, Shenzhen, Wuhan, Zhenjiang, the ISOS have promoted a wide range of professional and technical cooperation and exchanges. This is the ninth ISOS which is co-held with International Workshop on Information Storage.IWIS / ISOS 2012have become a platform for international academy exchange. While scientists in China could get a full comprehensive understanding of the cutting-edge technology from this platform, foreign peer scientists could get a better understanding of CAS here. The conference itself has a great significance on improving electrical and optical memorytechnology of China.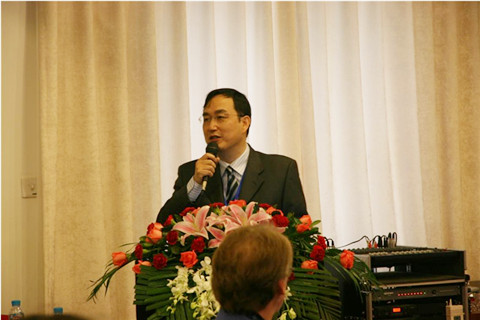 (Director WANG Xi giving speech, picture provided by SIMIT)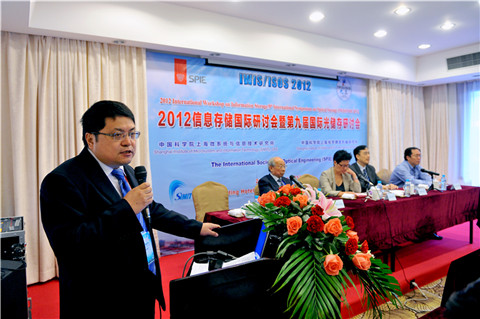 (Prof. SONG Zhitang hosting the conference, picture provided by SIMIT)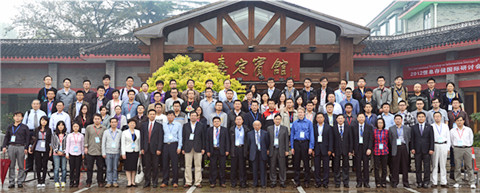 (Group photo, picture provided by SIMIT)