The 2nd Sino-German Workshop of Cooperation was held successfully in Shanghai on May 17th. The workshop is organized by Shanghai Institute of Microsystem and Information technology Chinese Academy of Sciences (SIMIT, CAS), Shanghai Advanced Research Institute Chinese Academy of Sciences (SARI, CAS), Shanghai Jiaotong University (SJTU) and Forschungszentrum Juelich (FZ-Juelich). Vice president of CAS and president of Shanghai Branch CAS Prof. JIANG Mianheng, Chairman of the Board of Directors and vice president of the Helmholtz Association of German Research Centers Prof. Achim Bachem, Director of Bureau of International Co-operation CAS Prof. LV Yonglong, Secretary of CPC Committee & Executive vice Director,Academician of Chinese Academy of Sciences Prof. WANG Xi, vice president of the Shanghai Advanced Research Institute SUN Yuhan and more than 100 representatives attended the workshop.
Prof. JIANG Mianheng signed a cooperation agreement with Prof. Bachem, including the fields of cooperation, joint research laboratories, sharing of research facilities and exchange of students. After signing the agreement Prof. JIANG Mianheng awarded Prof. Bachem the Honorary Guest Professorship of SIMIT, CAS.
Prof. JIANG Mianheng said that CAS has a good relationship with Helmholtz Association. Both two sides have the same research goal in energy, environment, health and big research facilities. This agreement is conducive to the further cooperation and exchange in many fields.
Prof. Bachem extended the appreciation for the Honor and hope both sides can take the opportunity to promote the joint research and the sciences exchange.
The workshop includes three parallel sessions. About 50 presentations in the fields of supercomputation, bioelectronics, MEMS, SOI and superconducting were presented by the representatives from both sides in two days.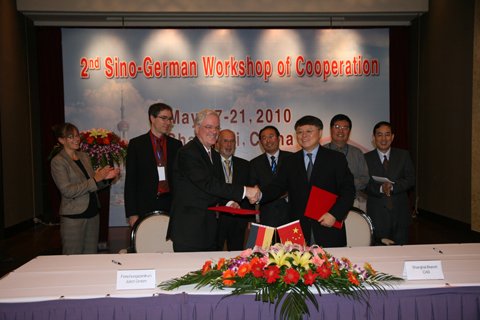 (Signing agreement, picture provided by SIMIT)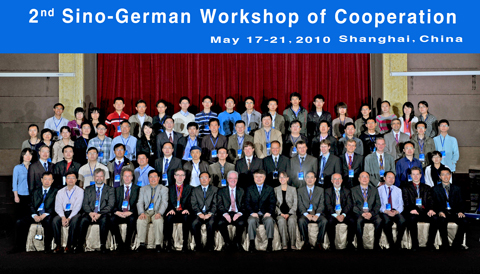 (Group photo, picutre provided by SIMIT)