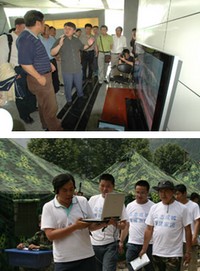 Scientific research people of the Shanghai Institute of Microsystem utilized MiWAVE broadband wireless emergency communication system with proprietary intellectual property rights to deploy ten point-to-points star mode and point-to-point relay line-type combined broadband wires communication networks in the areas severely afflicted by the "May 12" Wenchuan Earthquake, including Beichuan, Qingchuan, Pingwu, Leigu Town, and Anxian, etc., 77293 Army and Tangjiashan barrier lake valley. It played a significant role in the organizations and coordination of rescue, the medical treatment, the anti-epidemic activities, the broadband wireless network coverage, and the mobile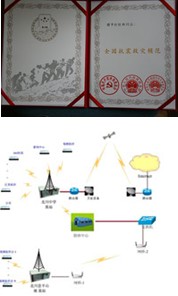 video monitoring, etc., and enabled the first mobile video telephone in the post-quake disaster zone. In the subsequent Tangjiashan barrier lake emergency rescue, the deployment also helped upload massive on-site real-time video data. Premier Wen Jiabao highly praised our work after watching the 12-line Tangjiashan barrier lake monitoring images at Zhongnanhai through the wireless broadband special line set up by the rescue team of the Institute.
As the new generation mobile communication technology with proprietary intellectual property rights, it excels in its excellent performances of the high broadband and the supporting mobile availability, etc., a technical advantage that few existing communication technology could challenge. Moreover, the rapid network construction, multiple deployments and multiply access modes, etc. developed for the project for adapting to the emergency communication situations have achieved considerabe results and laid a solid foundation for the industrial application.