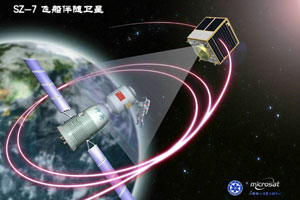 Topical in the world's satellite technology development in the 1990s, the low orbit small communication satellite is characterized by its small size light weight, low cost, short lead time, and rapid and flexible launch methods. On 21 October, 2003, the "Innovation I" data communication experiment satellite was successfully launched. The satellite is the first microsatellite below 100kg that has been independently developed by China. In the process of research, it employed the techniques of integrating satellite, observation and control, and ground application terminal. The low orbit communication microsatellite has played an important role in traffic and transportation, environmental protection, oil and gas transmission, flood control and drought relief, forest fire, and earthquake monitoring, etc. This research achievement was awarded the 2nd Prize of National Scientific and Technological Progress 2005.
The Microsystem Institute's Microsatellite Engineering Department took the development of the "Innovation I" store-and-forward communication microsatellite as the starting point, and focused on the systematic core technology innovation and the integration innovation of microsatellite, etc. In November 2008, the "Innovation I" Satellite 02 was successfully launched at the Jiuquan Satellite Launch Centre, another climax in China's microsatellite research.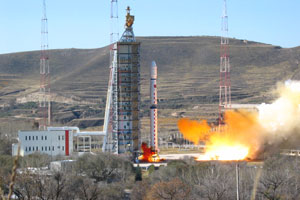 In September 2008, the "Shenzhou VII" manned spacecraft was successfully launched with the attention of the whole world. On the night of September 27 when the "Shenzhou VII" spacecraft circulated for the 31st time, the accompanying satellite was released successfully. The 40kg accompanying satellite took clear photos of the "Shenzhou VII" spacecraft. This satellite was also developed by the Microsatellite Engineering Center. After the space extravehicular activities, the spacecraft released the accompanying satellite, the first time for China to test the technology of releasing space object through the platform of space vehicle and accompanying flying technology. The "Shenzhou VII" accompanying satellite is equipped with a twin-lens visible light camera, which can conduct high resolution color photographic observation or high-frame-frequency video observation within the range from meters to kilometers with its two lenses of different focal distances. In addition, the mass storage of the satellite can store more than 3,000 photos.