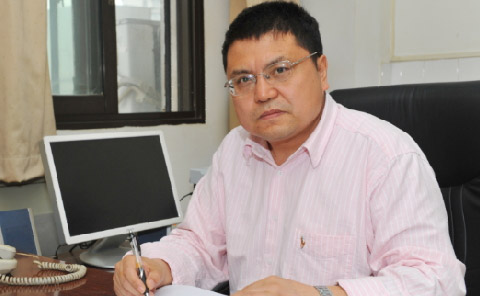 Zhitang Song, Ph.D. Supervisor. Graduated from Institute of Electronic Materials and Devices, Xi'an Jiaotong University in 1997 with a doctor's degree in technical science. Incumbent Director of the State Key Laboratory of Functional Materials for Informatics, Academic Pacemaker of Nanoelectronic Materials and Devices in Shanghai, pioneer of phase change random access memory (PCRAM) material and device research in china.
He focused on the studies of phase-change materials and devices and CMP Slurry, and created the Nano electronic materials and devices subject of Shanghai Institute of Microsystem and Information Technology. Combined with the industry, he took the lead in carrying out PCRAM research and development in the country. He trained and formed a high-level R & D team (about 100 people) with the close integration of production, learning and research. As Chief Scientist and Project Director of National Integrate Circuit Research Program (02 special subject) and National Program on Key Basic Research Project 973 (Class A) of China, he has undertaken more than 50 national or provincial research projects: "Strategic Priority Research Program" of the Chinese Academy of Sciences, National High-tech R&D Program of China (863), National Natural Science Foundation of China, etc. He has applied for over 400 patents, published more than 200 papers in Nature Communications, Nanoscale and Scientific Report, etc., and wrote 2 monographs, i.e. Phase Change Memory, Phase Change Memory and Its Application Foundation. He is also a member of the National Nanotechnology Standardization Committee, Secretary-General of the Nano Processing Committee of the National Nanotechnology Standardization Technical Committee, Executive Director of the China Society for Materials Research, Director of the China Vacuum Society and Executive Director of the Shanghai Vacuum Society. He has jointly established a production-learning-research team with more than 150 people, and set up a 12-inche PCRAM special technology platform. He has developed China's first PCRAM test chip, and implemented mass production of PCRAM test chip in China for the first time.
He is a national candidate of The New Century hundreds and Thousands Talents Project, the leading talent and outstanding academic leader in Shanghai. He was awarded the special allowance by the State Council, outstanding contribution award of Shanghai in the medium and long term planning of science and technology. He was also awarded the excellent tutor and Zhu Li Yue Hua excellent teacher award by Chinese Academy of Sciences. He won the National Scientific and Technological Progress Award (First Prize), Outstanding Scientific and Technological Achievement Award of Chinese Academy of Sciences and Shanghai Technical Invention Award (First Prize). In 2007, he was elected member of the Eleventh Committee of Shanghai Municipality of the Chinese People's Political Consultative Conference.